Are you looking for an alternative to the ever-popular pumpkin soup? Well, this roast carrot and butter bean soup could be just the ticket. Roasting the carrots ramps up the sweetness and the butter beans add a creamy, velvet-like texture. This soup is perfect for plant-based vegan and vegetarian diets.
Why it ticks the healthy box
Carrots
A staple vegetable in most houses carrots are packed full of the pro-vitamin A – beta carotene which is essential for skin health and your immune system. You only absorb around 3% of the beta carotene in the raw carrots but roasting them with oil increases the availability to 40%.
They've also got reasonable levels of Vitamin K1 (blood clotting and tissue repair) and Vitamin B6 (healthy hormones and nervous system).
Butter beans
Also known as lima beans these are a low-fat source of high-quality plant protein and the all-important fibre. A serve of this soup gives you 20% of your daily fibre needs and around 10g of protein.
Tahini
The paste of ground, roasted sesame seeds is more than just an ingredient in hummus. It adds even more creaminess to this soup and gives a boost of calcium and manganese, which is vital for healthy bones, sleep and skin.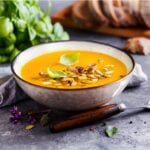 Print Recipe
Roast Carrot and Butter Bean Soup
Ingredients
1

kg

carrots, peeled and roughly chopped

3

sticks

celery, finely chopped

1

large brown onion, finely chopped

2

tbsp

olive oil

5

cups

vegetable stock

3

cloves of garlic, minced

1/4

cup

tahini

2

cans

butter beans, drained and rinsed

approximately 800g

2

tsp

turmeric

salt and pepper, to season

1/2

lemon, juiced
Instructions
Preheat oven to 180 degrees C. Line a baking tray with baking paper.

Toss carrots in 1 tbsp of the olive oil, season with a little salt and roast for 40 minutes, turning halfway through.

About 10 minutes before the carrots are done, preheat the remaining olive oil in a large saucepan over medium heat.

Add the celery and onion and cook until translucent (around 4-5 mins). Add the minced garlic, turmeric and cook off for about 1 minute. Season with salt and pepper.

Add the roasted carrots, butter beans and stock. Bring to the bioil, reduce heat and simmer for 30 minutes.

5 minutes before the end, add the tahini and stir to combine. Adjust seasoning if necessary.

Turn off the heat and add the lemon juice. If you like a smooth texture use a stick blender until the soup is creamy. For a more rustic texture use a potato masher.

Serve and top with herbs of your choice. Parsley, basil or coriander works well.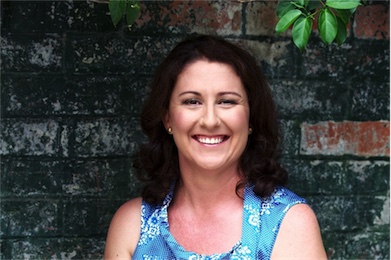 Need help with your health?
Norelle Hentschel is an experienced Naturopath with a clinic in Stones Corner, South East Brisbane and also offers Telehealth consults Australia wide. She enjoys supporting her clients to reach their health goals.
Want more articles like this?
Receive a monthly digest of natural health information to help you become "health" sufficient!
PS. Your inbox real estate is precious, and we will never annoy you with sales pitches or share your details with anyone else. One email a month — that's it.