Dahl is a spicy, fragrant curry made from split lentils. This nutritious vegetarian/vegan dish is a staple of Indian cuisine.
It's both easy to prepare and easy on the budget, with one serve costing around $3.00 per person. The split lentils cook quickly. You can have this recipe from the pantry to plate in 40 minutes.
A perfect meal prep recipe, I make up a big batch and freeze individual portions.
Health benefits of red lentils
Red lentils are a legume that is easy to prepare and gives a smooth puree texture when cooked.
Aside from dahl, you can use them to thicken soups or as a base for vegetarian burger patties.
Due to their high nutritional value, red lentils are an excellent addition to a plant-based diet or any diet for that matter!
Fibre
A cup of cooked red lentils has around 15 grams or 50% of your daily fibre target. This makes them low GI and an excellent carbohydrate for those looking to keep their blood sugar balanced and their gut bugs well fed.
Protein
Red lentils pack a plant protein punch with around 18 grams per cup of cooked lentils. That's about 35% of the daily protein requirement. Unlike animal protein, lentils don't have the full range of amino acids but serve them with rice, and you'll round it out.
Iron
Iron is often a low mineral in a plant-based diet, but a cup of cooked red lentils provides about 7mg.
B Vitamins
Cooked lentils have around 360 mg of folate (B9) per cup. This is almost your total daily allowance. Folate is vital for mental health, red blood cells and DNA. They are also high in Vitamins B6, B5 and B1.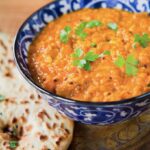 Print Recipe
Caterina's Red Lentil Dahl
A tasty and budget friendly version of the classic. Vegetarian, vegan friendly and perfect for meat-free Mondays.
Ingredients
3

cloves

garlic, chopped finely

5

cm

piece of fresh ginger, chopped finely

or 2-3 teaspoons dried

2

tspn

turmeric

1

fresh chili or use up to 1 teaspoon of chili powder

Adjust to your taste.

1

bract

fresh curry leaves

3

tsp

curry powder

2

tsp

ground cumin

1

tsp

ground coriander

2

tsp

garam masala

salt and pepper

2

cups

red lentils

2

400g

tins of diced tomatoes

4

cups

vegetable stock

300

mL

coconut cream

2

tbsp

peanut butter

1

lemon, juiced

1/2

cup

fresh coriander

2

cups

greens

sliverbeet, spinach or kale

2

tbsp

olive or coconut oil
Instructions
Heat oil in a large saucepan over medium heat

Sautee ginger, garlic and turmeric for 2 minutes

Add the rest of the spices (except the fresh coriander and curry leaves) and stir for 1 minute

Pour in the stock, lentils and tinned tomatoes and stir well, add the curry leaves

Bring to a boil and then simmer, covered for 20 minutes, or until the lentils are cooked through. Stir frequently to prevent lentils from sticking to the bottom of the pan.

Stir int he coconut milk and peanut butter and season with salt and pepper.

Remove from heat and stir in the lemon juice and fresh coriander leaves. Remove the curry leaves.

Serve with Basmati rice or garlic naan.
Notes
Taste great on the day of making. Tastes even better the next day.
Recipe freezes well for up to 3 months.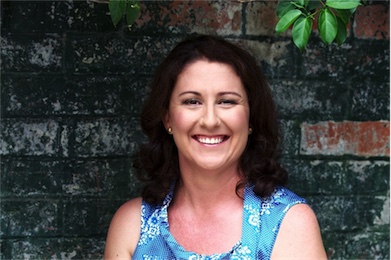 Need help with your health?
Norelle Hentschel is an experienced Naturopath with a clinic in Stones Corner, South East Brisbane and also offers Telehealth consults Australia wide. She enjoys supporting her clients to reach their health goals.
Want more articles like this?
Receive a monthly digest of natural health information to help you become "health" sufficient!
PS. Your inbox real estate is precious, and we will never annoy you with sales pitches or share your details with anyone else. One email a month — that's it.